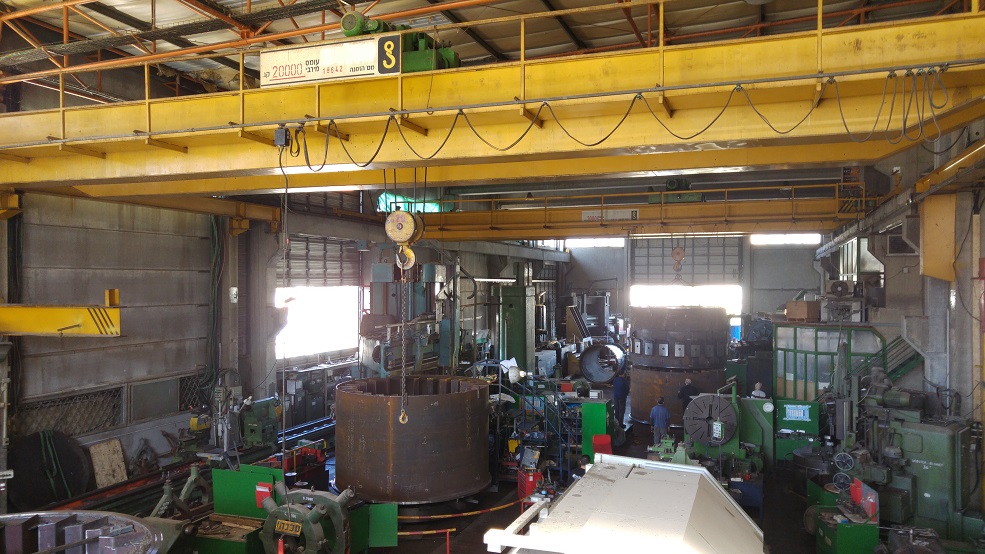 Nidco is Israel's market leader in heavy machining and metal fabrication and offers all the services, equipment and technical capabilities to carry out large, unique and complex metal works in our extensive 80,000 sq/ft job shop.
Our workshop houses the largest machining equipment in the Middle East, a specialist welding department capable of welding various steels, alloy steels, aluminum and stainless steel; including MIG, Tig and submerged arc welding according to all standards including the strictest aviation standards.
We also perform flame & plasma cutting, bending and rolling of thick steel plates. 
In addition we have in the workshop all required measuring equipment to ensure parts are manufactured according to the strictest customer requirements. Nidco is certified for ISO 9001:2008 and AS9100. 
All of these capabilities in one location enable our customers to save time, money and transportation of heavy parts between subcontractors, and shortens project schedules significantly, since there is no need to wait the queue at each contractors' workshop separately.
Over the years, and the projects completed, we have accumulated at Nidco knowledge, technologies and know-how that is unique in Israel.
One of the services which we are especially proud of is the area of mobile machining and mechanics is "Nidco On-Site". Nidco has, readymade, multiple containers of different sizes and themes full of specialty tools and machines tools dedicated to perform machining and other mechanical services at the clients' facility. These containers are ready for deployment within a few hours' notice, allowing us to carry out emergency repairs and maintenance work which otherwise only the dismantling the machines and transporting them to a workshop can be a project within itself. On-site work shortens maintenance schedules dramatically and has been proven to be a cost effective maintenance method, saving end users substantial time and resources.
Nidco is located in an over 6000 square meter building with extensive outdoor areas in the Ramla Industrial Zone in Central Israel. Ramla and the workshop are close to all major routes in Israel: Route 6, Route 1 (Tel Aviv-Jerusalem) , Route 40 and Route 44. 
Ben Gurion International Airport is less than a 10 minute drive away, Tel Aviv and Jerusalem are both less than 30 minutes' drive too. 
At Nidco we aim to provide our customers service 24/7 upon request and are able to carry out emergency repair services at very short notice whenever necessary, wherever required.
Nidco complies with the strictest international standards and we have an approved AS9100 certified quality system, which is the strictest manufacturing standardin addition to ISO 9001:2015. 
We currently employ about 100 workers: Machinists (turning, milling, boring, grinding – both conventional and CNC), welders and metal workers, engineers, technicians, managers and administrative staff, all professional with many years of experience. Most of them live in Ramla and the surrounding towns and are proud to be part of the Israeli industry.
Nidco is a privately owned, family run business and as such is able to be flexible and fully dedicated to the changing needs and demands of its clients and the markets, both locally and globally.